How to Increase Space in a Small Bathroom
Oct 13, 2023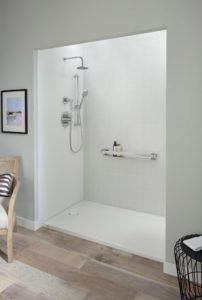 Many homeowners have at least one small bathroom in their home that they wish looked and felt bigger. While moving walls to physically expand the amount of square footage in a small bathroom is probably unrealistic, there are plenty of ways to help increase space even in a small bathroom. It comes down to careful space planning and design considerations to ensure every element of the bathroom contributes to the more spacious look and feel you desire.
Can I Transform a Small Bathroom with a Bath Remodel?
A bath remodel is an excellent way to transform a small bathroom. In fact, it's one of the most effective options for upgrading the entire bathroom. Because the bath or shower is often the focal point of the room, especially when space is limited, this part of the bathroom can have a transformative effect on the look and feel of the entire space. For small bathrooms, consider sticking with white or light colors for your tub or shower. Additionally, consider vertical patterns for your bath or shower walls that help draw the eye upward to create a sense of space and avoid busy patterns that can create a more confining feel.
Will Converting a Tub to a Shower Save Space?
Converting a tub to a shower can help save space in a small bathroom. A traditional bathtub can take up quite a bit of real estate in the bathroom while also creating barriers in your line of vision with the high tub walls. By contrast, a walk-in shower helps eliminate these visual barriers, allowing for a more open and airy aesthetic.
What's the Best Way to Maximize Bathroom Space in a Remodel?
There are many things you can do to maximize small bathroom space. In addition to finding the right bathing enclosure, you can create more space in a small bathroom by:
Carefully planning out the layout – While certain fixtures are likely set in place, consider the overall layout of the space and think about which areas feel the most cramped or confining. This can help you determine what changes you need to make to find the effective small bathroom space solutions you're looking for.
Add effective storage solutions – Too much clutter in your bathroom will only serve to cramp your space and make it feel more enclosed. Effective storage solutions are some of the most effective small bathroom space-saving ideas, as they can help you keep clutter out of your line of sight for a clean, open aesthetic.
Use lights and fixtures to enhance the effect – You can also create more space in a small bathroom by using lighting and fixtures effectively. Dim or low lighting can make a space feel smaller and more intimate. Therefore, to make your bathroom feel bigger, ensure there's adequate lighting. This may involve adding more light fixtures, using higher-wattage bulbs, or choosing a bright white or daylight bulb color over soft whites. Adding mirrors can also help create the illusion of more space and help the light bounce around the room for a brighter look and more spacious feel.
Keep the color scheme light – As with your bathing enclosure, your choice of color for the bathroom walls and fixtures will impact the look and feel of the space. Lighter colors will also help reflect the light for a brighter, more open bathroom space. Additionally, vertical patterns and fixtures that are placed high along the walls can help create the illusion of space.
Choose the right bathing enclosure for the space – As mentioned above, a walk-in shower is often a better option than a traditional tub in most small bathrooms. It can help to work with a professional bathroom remodeling contractor to discuss your options and get professional design assistance to ensure you're choosing the right options to meet your goals.
Increase Space in Your Small Bathroom with Jacuzzi Bath Remodel
Creating a spacious feel in a small bathroom is very possible. This type of project involves a combination of design, layout, and storage considerations to ensure every element is working together to create the spacious effect you desire. By rethinking traditional arrangements, embracing vertical space, playing with colors and lighting, and optimizing storage options, homeowners can transform their small bathrooms into inviting and efficient spaces that feel much larger than they are.
To learn more about how to increase space in a small bathroom, contact Jacuzzi Bath Remodel today. We proudly offer a variety of bath and shower remodeling services that are ideal for large and small bathrooms alike, and we'd be happy to help you find the options that will best suit your needs and make your small bathroom feel more spacious as well.