How Much Space Is Needed for a Walk-In Shower?
Sep 12, 2023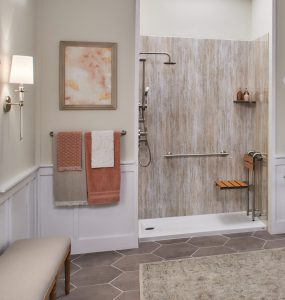 Considering a walk-in shower for your home? You're not alone. As homeowners become more keen on enhancing the aesthetics and functionality of their bathrooms, walk-in showers are increasingly popular. However, a recurring question is: What are the dimensions for walk-in showers? Let's dive in.
Understanding the Basics: Average Sizes
Take these average sizes under advisement while you're thinking about the dimensions of a walk-in shower.
The size of the walk-in shower – Walk-in showers typically don't go smaller than 32 inches by 32 inches. Most bathrooms can easily accommodate this square footage.
International Residential Code – The smallest permissible footprint for a walk-in shower is 30 inches by 30 inches.
National Kitchen and Bath Association – Recommends a slightly more generous size of 36 inches by 36inches.
Most common sizing – The frequently seen rectangular walk-in shower dimensions are 36 inches by 48 inches.
The versatility of walk-in shower dimensions means there's likely a fit for every bathroom.
Why Dimensions Matter
Understanding the size of a walk-in shower is crucial for a few reasons.
The functionality of the shower floor needs a proper slope for efficient water flow. If the shower's size is too confined, there's not enough slope, leading to drainage problems.
Smaller showers often benefit from rain showerheads, minimizing wall splashes. With larger spaces, the choices for showerheads expand.
Customized for Your Home
No two homes are the same. Hence, the concept of a "one-size-fits-all" doesn't apply. With Jacuzzi Bath Remodel, we believe in customizing every walk-in shower to your unique bathroom specifications. From selecting the ideal shower walls to the shower surround, the customization process ensures that your new shower not only fits perfectly but also exudes elegance and style.
Why You Should Work With Jacuzzi Bath Remodel
Determining the dimensions for walk-in showers is essential, but rest assured, there's a size and style that will complement your bathroom perfectly. Should you have any questions or are ready to start your bathroom transformation journey, don't hesitate to contact us. With Jacuzzi Bath Remodel, you're assured premium quality, design excellence, and a bathroom remodel that prioritizes your wellbeing.