How Do You Stop Water From Splashing in a Walk-In Shower?
Sep 12, 2023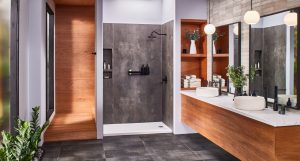 At Jacuzzi Bath Remodel, we understand the importance of a well-designed and functional bathroom. While walk-in showers are undeniably stylish and a favorite among many homeowners, a common concern is figuring out how to stop water splashing out of a walk-in shower. With over 65 years of experience in hydrotherapy engineering, we're here to guide you through some effective solutions.
Consider Adding Shower Doors
The simplest solution often lies in adding a barrier. Although walk-in showers are designed to be open, installing a transparent glass door can both preserve the aesthetic and keep water inside. Especially for smaller walk-in showers where splashes are more likely to escape, a shower door can be the ultimate game-changer.
Trench Drain Systems
Trench drain systems can be a savior for those looking to keep their walk-in shower design open and free of doors. Positioned at the entrance, these drains catch water before it gets a chance to flow onto your bathroom floor.
Shower Splash Guards and Weighted Curtains
There are two primary ways to block the water splashing: splash guards and weighted shower curtains.
Splash guards are small, often triangular devices that fit in the corner where the shower floor meets the wall. They act as barriers, preventing water from leaking out.
Weighted shower curtains have magnets sewn into the bottom, ensuring the curtain stays in place, further reducing splashes.
Discover the Jacuzzi Bath Remodel Difference
Our commitment to quality, design, and performance makes us an industry leader. If you're contemplating a bathroom remodel or simply need expert advice on walk-in shower designs, don't hesitate to contact us.
Our products, backed by advanced hydrotherapy engineering, are designed for both performance and wellbeing. As your trusted local authorized Jacuzzi Bath Remodel dealer, we can guide you in upgrading your bathroom, often in as little as one day. For genuine Jacuzzi® products that can transform your bathroom experience, always turn to the experts.
So, if you're wondering how to stop water splashing out of a walk-in shower, reach out to us today. We're here to help ensure your bathroom remains both stunning and functional.