Essential Bathroom Remodeling Tips for 2021
Aug 02, 2021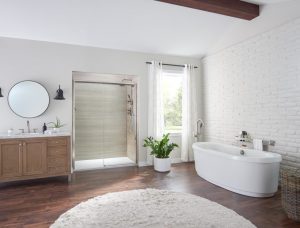 In 2021, it's safe to say that most of us have spent more time than normal in our homes over the last year and change. One unexpected side effect of this time indoors was the overwhelming urge to make updates to our homes, with one particularly popular project being bathroom remodeling. Your bathroom is one of the most used areas of your home, and one where you should be able to feel nothing but refreshed and relaxed. If you're ready to take on a bathroom renovation in 2021, here are some essential bathroom remodeling tips to keep in mind:
Consider a Wet-Area Remodel
While a renovation has the power to transform your bathroom from the ground up, it can also be a costly, time-consuming, and downright messy endeavor. A wet-area remodel, on the other hand, focuses on the main feature of the space: the bathtub or shower. This type of bathroom renovation isn't just more cost-effective, it's also a great way to improve the appearance of your bathroom and save valuable time—in fact, a bathtub or shower replacement from Jacuzzi Bath Remodel can be completed in as little as one day!
Do You Prefer a Bathtub or Shower?
If, like many homeowners out there, you spent much of the last year bingeing home improvement shows on TV, you may have found yourself admiring some of the luxurious bathtubs or sleek walk-in showers you saw on-screen. When you think about your own bathroom setup, which would you prefer to have? A bathroom remodel is your chance to switch it up if you're ready to swap out that underused tub for a modern shower or invest in a gorgeous bathtub that's suited to your every want and need. There's no need to feel limited by any features you currently have, as Jacuzzi Bath Remodel can perform an expert tub-to-shower or shower-to-tub conversion that completely revamps your whole bathroom and how you use it.
Choose the Right Accessories for You
A bathroom remodel is your chance to change whatever may be frustrating you about your current bathroom, whether that be a lack of storage for your ever-growing collection of toiletries or the need for additional safety and accessibility features. Before embarking on your bathroom renovation, make sure that the contractor you choose offers the accessories and opportunities to customize that you're looking for to bring your dream bathroom to life. Fortunately, Jacuzzi Bath Remodel is proud to offer an array of customization options, from shelving and shower lockers to grab bars, built-in seating, and more.
Do Your Research
The most important tip for remodeling your bathroom is to do your homework, mostly on which company is right for the remodel you have in mind. Researching the advantages of different features and exploring Jacuzzi Bath Remodel ideas can help you draw a better picture of what you want in your head, but none of that matters if the company you choose can't perform the updates you want. Look through reviews to determine the best company for you and your needs, and make sure they offer customizable design options to enhance the appearance and functionality of your bathroom.
Choose Jacuzzi Bath Remodel
So, what's the best way to ensure you get the high-quality bathroom remodel you've been dreaming of all year? It's easy: Turn to the experts at Jacuzzi Bath Remodel! Our bathtubs and showers are constructed with premium materials to ensure they are as durable and easy to maintain as they are gorgeous. Plus, we offer extensive options to customize your space with an array of aesthetic and functional choices. And since we believe no one should have to suffer through a messy, drawn-out renovation in 2021, know that most of our installations can be completed in as little as one day. Keep the tips above in mind and get started on your bathroom remodel by contacting Jacuzzi Bath Remodel today.