Choosing the Right Jacuzzi Tub With Shower Combo for Your Needs
Aug 02, 2023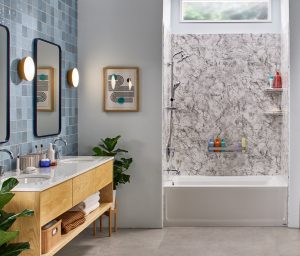 Although you can't go wrong with a Jacuzzi® bathtub-shower combo, there are so many options that it can be difficult to select the one that best meets your needs. Jacuzzi Bath Remodel makes the process as painless as possible by matching customers with an authorized bath remodeling expert near them who can guide them through the process. We also offer resources like this article to help homeowners like you choose the perfect Jacuzzi® product for your situation. Read on to learn a little bit about what our process for choosing the right Jacuzzi® tub with shower combo looks like and get some inspiration for your project.
Start With a Jacuzzi® Bathtub That Suits Your Space
More and more homeowners are choosing to invest in a tub-shower combination because of the versatility it brings. The first step in designing the perfect bathing fixture for your lifestyle is picking out one of our premium Jacuzzi® bathtubs as your base. Most of the bathtubs we offer can be transformed into a tub-shower combo with the right accessories, so you'll have the freedom to select a bath that elevates the look and feel of your bathroom in all the right ways. A few of our most popular styles include:
Alcove baths
Drop-in baths
Corner baths
Freestanding baths
No matter which you choose, you can rest easy knowing that you're getting a top-quality product backed by a nationally renowned brand. Our bathtubs are made with premium materials to make cleaning easy and ensure long-lasting performance. Moreover, most options come with advanced hydrotherapy features to take your bathing experience to the next level.
Accessorize to Your Heart's Desire
Once you've decided on a bathtub, it's time to choose the fixtures that complete your tub-shower combo. At Jacuzzi Bath Remodel, we offer a variety of premium showerheads and sophisticated faucets that combine style and functionality, so there's no doubt we have something that will catch your eye. Many of our showerheads provide a unique hydrotherapy experience, such as a rainfall effect or massaging jets, to refresh and revitalize you during your shower.
In addition to a vast selection of modern and classic fixtures, we also offer features to improve your safety and comfort while bathing, such as wall caddies, shelving, ADA-compliant grab bars, and more. Be sure to ask our team about all available customization options so that you can be sure you're not missing out on anything.
Find Your Dream Jacuzzi® Tub With Shower Combo
Remodeling your bathroom? There's no better bath expert to have on your side than Jacuzzi Bath Remodel. You'll be able to browse our entire collection of genuine Jacuzzi® bathtubs and customize your new tub-shower combo to meet your unique needs. Then, no matter where you're located, you can look forward to a smooth, stress-free installation in as little as one day thanks to our nationwide network of highly trained professionals. Reach out to our team today to start browsing your options and get the design process started.