Benefits of Jacuzzi® Walk-In Tubs
Dec 17, 2021
Benefits of Jacuzzi® Walk-In Tubs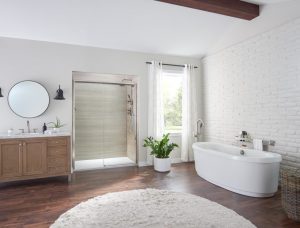 Some people enjoy quick, cold showers, and others prefer hour-long baths. Which party do you belong to? Bath gurus know how important it is to find a tub that checks all of the boxes for comfort, aesthetic appeal, and overall performance. But is there a tub design that works for individuals who need a low-entry threshold? Jacuzzi walk-in tubs check all of the boxes for homeowners looking for a safer bathing experience. And in this article, we're taking a closer look at those benefits. 
What Is a Walk-In Tub?
Does that tub have a door? Your eyes are not deceiving you! Before we get to the good stuff, let's take a moment to dissect the anatomy of a walk-in tub. Unlike traditional soaker tubs, walk-in tubs are designed with a wide-opening door that tightly seals once the user is comfortably seated on the tub's built-in chair. This ingenious feat of engineering has made soaking in a tub accessible to virtually anyone, but it has been particularly beneficial for those who have limited mobility, an injury, or find getting in and out of a standard tub difficult.
The Benefits of Walk-In Bathtubs
We already hinted at a few of the perks, but here's a comprehensive list of some of our favorite walk-in tub benefits:
Enhanced Bathroom Accessibility
The overall design of a walk-in tub is constructed to make bathing a more enjoyable experience for those with limited mobility. And this has been achieved by prioritizing accessibility! What do we mean? Walk-in tubs are inherently safe but also feature oodles of built-in safety accessories to ensure bathers feel supported and comfortable throughout their entire soak. From chair-height seating to slip-resistant flooring, this product will absolutely enhance the accessibility of your bathroom.
They're Hydrotherapeutic
Some walk-in tubs—such as those manufactured by Jacuzzi®—take relaxation to the next level with jets! Strategically placed to focus on core muscle groups, these adjustable jets will massage the tension out of your body for a hydrotherapeutic experience.
Incredibly Easy to Clean
Jacuzzi® walk-in tubs are also very hygienic. Their low-maintenance design and antimicrobial material resists mold and mildew growth for an easy clean that all but eliminates the chore of scrubbing your tub's walls.
Aging-In-Place Friendly
Walk-in tubs are an investment for your future. They are an excellent option for homeowners who are planning to age in place at home but don't want to give up their favorite self-care routine. With it, you can continue to enjoy long, luxurious baths without the fear of slipping and falling.
The Jacuzzi Difference
Are you ready to experience the Jacuzzi difference for yourself? Contact us today to learn more about our walk-in tubs! Our team will connect you to a certified, local Jacuzzi® walk-in bathtub dealer near you.