Bathtub Considerations for Small Bathrooms: How to Make the Most of Your Space
Sep 02, 2021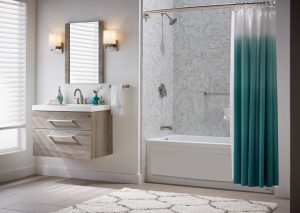 A bathroom renovation is your opportunity to transform your space into the oasis you've been dreaming of, but having a particularly small bathroom can put a damper on those dreams. The good news is that there's no need to give up on achieving the remodel results you're after just because you're working with a smaller space—all you have to do is keep these few bathtub considerations from Jacuzzi Bath Remodel in mind!
Where Could You Use More Storage Space?
When it comes to a small bathroom, storage is key to ensuring you can make the most of the space without making it feel overcrowded. Keep your ever-growing collection of toiletries neatly tucked away by opting to include extra storage features with your bathtub replacement. Jacuzzi Bath Remodel offers plenty of shelving options so that you can choose the right style to meet your aesthetic and functional needs.
What Look Are You Going For?
The bathing fixture is the central focal point of any bathroom, but this is especially true of small bathrooms where there are few other visual distractions to catch your eye. Because of this, it's important to take aesthetics into account when choosing and customizing your new bathtub. At Jacuzzi Bath Remodel, we believe that your bathtub should delight all your senses, and that means being easy on the eyes as well as your body. We offer customizable options so that you can select the perfect colors, patterns, and textures to create the overall appearance you're looking for, whether that be classically traditional or something sleeker and more modern.
How Much Will the Installation Affect Your Schedule?
A traditional bathroom renovation can take days if not weeks on end, leaving you and those within your household scrambling to get ready in the mornings and before bed. If this is the only bathroom at your home or you have limited options for condensing into another, this is another reason to opt for a wet-area bathroom remodel in the form of a bathtub replacement.
When you choose a company like Jacuzzi Bath Remodel for this kind of project, the installation of your gorgeous new bathtub can take as little as one day. The frustration of dealing with a temporary construction zone can feel so much worse when you're working with a small bathroom space, so minimizing the time it takes for your brand-new tub to be installed is always a good thing. A bathtub replacement is also a more cost-effective solution than a full bathroom remodel, meaning you can save more money to spend on new décor or other elements that can upgrade the feel of the entire bathroom space.
Why Should You Choose Jacuzzi Bath Remodel?
The most important consideration you can make when it comes to upgrading your bathtub is the company you choose for the job. Not all bathroom remodeling companies can offer the same level of quality or the fast installation time you need, but there's one that can: Jacuzzi Bath Remodel. We can work with you to design a bathtub that meets all your style, storage, and even safety needs, and we never cut corners even with our fast installations. Made of premium, high-performance materials, our bathtubs are as durable and low-maintenance as they are beautiful. Check out some additional Jacuzzi® bathroom ideas and get ready to see how great your small bathroom can be by contacting Jacuzzi Bath Remodel today.