Bathing Practices Over the Years: "Don't Throw the Baby Out With the Bathwater"
Feb 01, 2022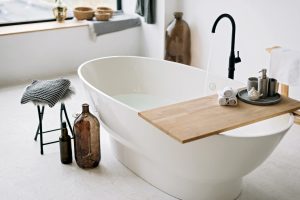 While hygiene may be of greater importance today than it ever was, bathing practices have always been central to society throughout time. At different points in history, bathing has been both a deeply private practice and also a more public, social experience. To understand a bit more about bathing practices over the years and how we've come to a new standard of luxury with Jacuzzi® baths today, let's dive into the history:
Bathing in Antiquity
The history of hygiene is a long one, but the reasons for bathing—or avoiding it—have varied greatly over time. In antiquity, baths were far less about getting clean than they are today. Rather, they were associated with rituals and social matters, most notably the famed bathhouses of ancient Rome. Supported by a network of aqueducts, these lavish bathhouses became a deeply rooted cultural standard that was a true institution for social life. People did much more than simply bathe in these spaces as well, as there were times when they were used for exercise and even learning. The actual act of getting "clean" in an ancient bath was also different than what we practice today, as historians point to the idea that people actually scraped themselves clean with small tools rather than simply washing.
Public bathing was not exclusive to ancient Rome, either, as the practice would also gain popularity in places like India, China, Tibet, and Japan.
When Bathing Fell Out of Style
While early modern Europeans believed that "cleanliness is next to godliness," bathing was not the preferred—or even recommended—way to get clean. In fact, they likely believed that bathing in water would lead to an increased risk for disease rather than the opposite. So instead, dry baths using cloths became popular until the 19th century.
Bringing the Bath Back
In the 1800s, innovations in plumbing created a bit of a bathing renaissance. New technology and water infrastructure allowed more and more people to bring bathing back into the home and rang in a new era of private, even daily baths. While many had to learn the hard way not to "throw the baby out with the bathwater" in the early days of bathing at home, society quickly caught on to the practice and regular bathing would soon become standard for most families. Thankfully, a widespread acceptance of washing would soon take hold.
As time went on, new advancements would change the track of "bath time" as we know it. Indoor plumbing and bath/shower systems became standard, and soon the Jacuzzi brothers would take baths to the next level. The outstanding invention of the Jacuzzi® bath by the Jacuzzi family in the mid-1900s transformed the bathroom from a place used purely for hygiene into one designed for relaxation and hydrotherapy as well.
The Best Baths of Today
The history of baths is marked by social practices and cultural changes, but it's probably safe to say that we're all happy to be where we are now. Now, we can all experience luxury and a spa-like space within our own home with a Jacuzzi® bathtub and other Jacuzzi® products, all of which can be customized to suit every individual's unique wants and needs. Interested in putting your old bath in the history books and experiencing Jacuzzi® innovation for yourself? Bring your bathroom into the modern age by contacting Jacuzzi Bath Remodel today.